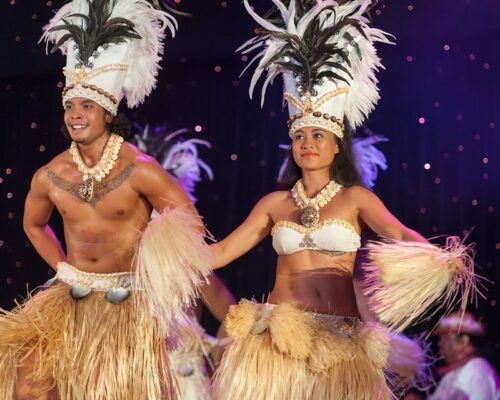 Tahitian Dance
Tahitian dance has two main group dancing. There is the 'Ote'a, the exciting Drum dance. This is where the dancers wear pounded bark skirts and hand tassels with a decorated headdress. 
The second type is the aparima where the dancers wear pareu (sarong) adorned with flowers and greenery. The aparima has musical instrumentation  as the dancers tell the story with their hands similar to Hula.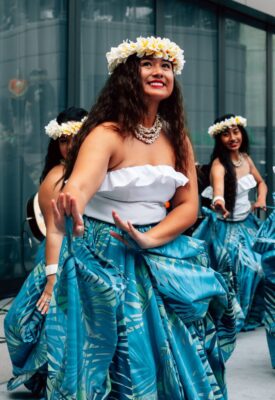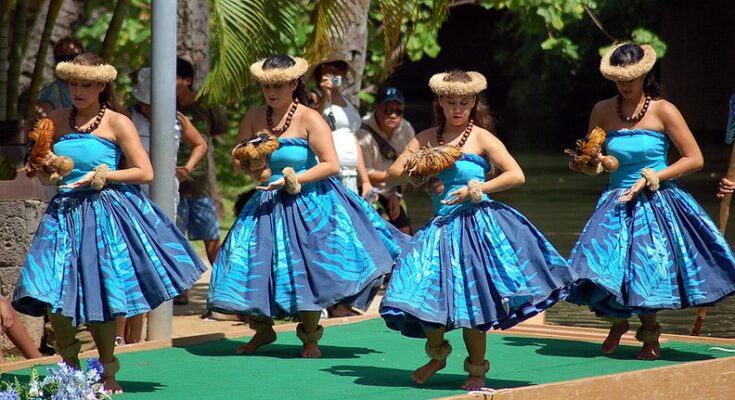 Hula
There are two main types of Hula. The Hula Kahiko (ancient hula) Hula 'Auana (modern Hula). Kahiko is the ancient dance of Hawai'i, which involves drumming and chanting.
'Auana is the modern form of hula. There are musical instrumentation and singing.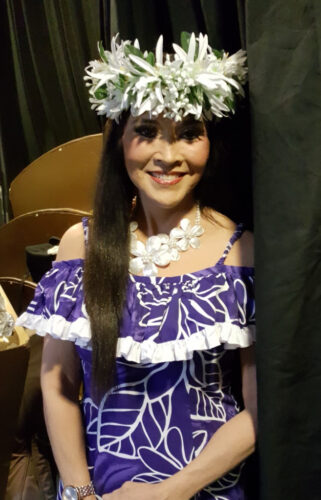 Taina started as a dancer in the 1970's. She worked herself up to the MC of a Polynesian show and then a singer in a dance band.  She started Waikiki entertaining after having her four children which is very rare in show business. She has been teaching Hula and Tahitian since 1976. Her skills as a dancer and choreographer have been developed from great Polynesian dance masters.  Her training has blossomed into choreographing for studios and major shows. Eventually producing their own shows with her husband.
During the 1980's she became a model and principal actress in numerous commercials. Taina's talent as dancer and instructor has been featured in an instructional hula video. From there she produced her own instructional videos on Hula and Tahitian dance. All videos were on the market by Island Heritage.
Her talented husband wrote the music for the original songs in the videos and all of the "Hawai'i Kidz Sing-A-Long" songs. Taina and her husband also produced the multicultural show on the famous "Windjammer Cruises". Taina was the singer and MC of the show known as the "Island Princess".
From 1997 until 2001 they produced and entertained on the "Voyager Dinner Cruise Show". As a professional duo, they also performed all types of music from oldies, pop, to standards and Jazz.